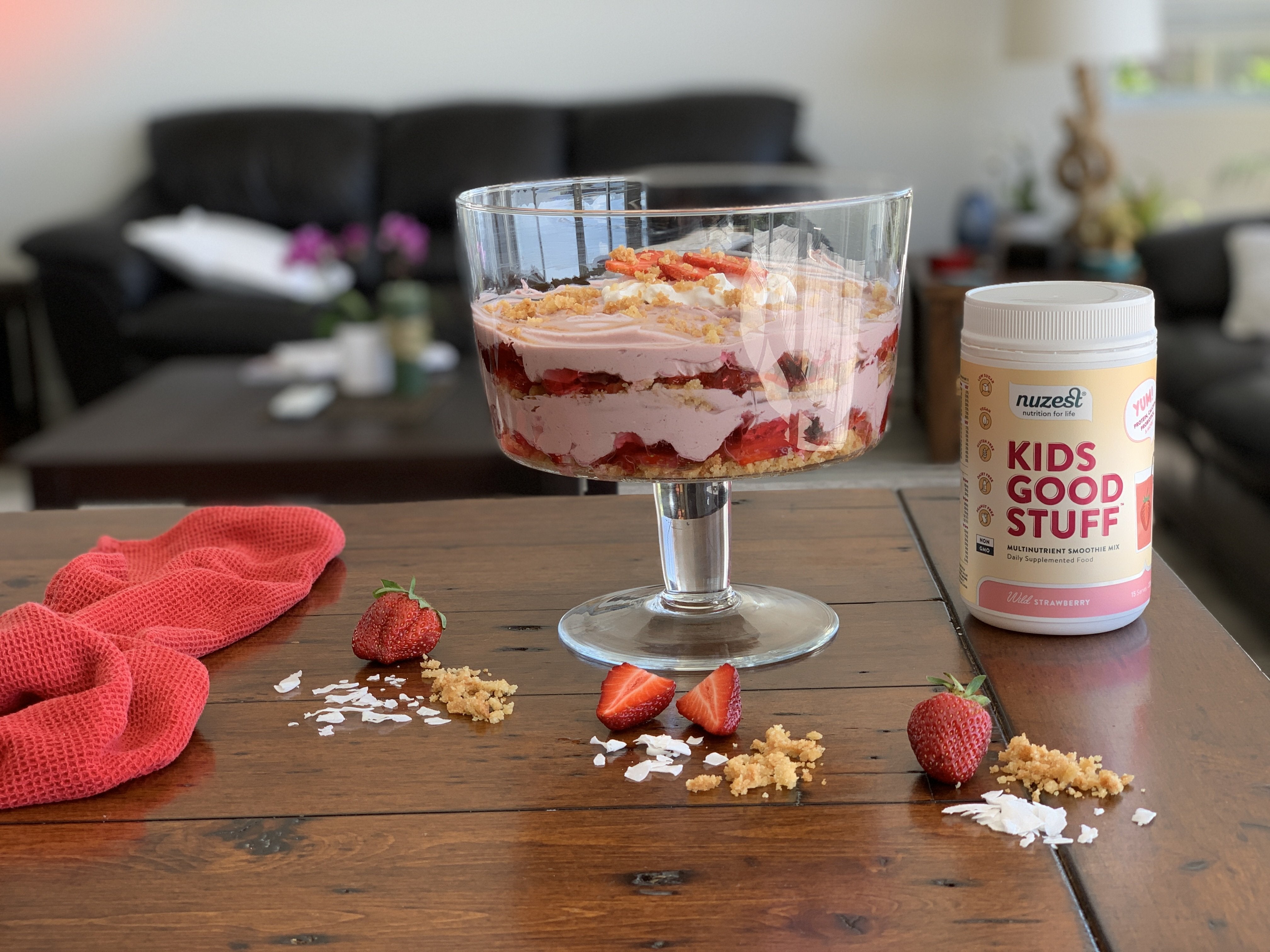 2 min read
Wild Strawberry Trifle
Posted By
Emma Linnea
TIME: 45, SERVES: 6
It's wild alright! A trifle with Smooth Vanilla Clean Lean Protein shortcake and Wild Strawberry Kids Good Stuff Strawberry Mousse! So delicious and super healthy too! Its gluten free, sugar free, vegan friendly and keto friendly... but you couldn't even tell the difference!
INGREDIENTS: 
Vanilla Shortcake
1 Serving Smooth Vanilla Clean Lean Protein
1 Cup Almond Flour
1 tsp Baking Powder
Pinch of Salt
¾ Cup Xylitol
50g Melted Butter (or Coconut Oil for a Vegan version)
1 tsp Vanilla
2 Eggs (or Flax Eggs for a Vegan version)
¼ Cup Milk of choice
Strawberry Mousse
2 Servings Wild Strawberry Kids Good Stuff or Wilf Strawberry Clean Lean Protein
500g Coconut Yoghurt
Layers
250g Sliced Strawberries
500ml Sugar Free Strawberry Jelly (Made ahead of time)
Toppings
Plain Coconut Yoghurt
Vanilla Shortcake crumbs
Strawberry slices
METHOD: 
Vanilla Shortcake
Mix the melted Butter or Coconut Oil with the Xylitol. 
Add the Eggs, Vanilla and Milk and mix well. 
Add all the remaining dry ingredients to a bowl and pour the wet ingredients in. 
Mix well and pour into a brownie baking tin and bake at 175C for 20-25mins. 
Allow to cool and break into pieces ready for assembling the Trifle.
Strawberry Mousse
Mix ingredients well until mousse-like.
Assemble the Trifle starting with a layer of Vanilla Shortcake, fresh Strawberries, Jelly and then Strawberry Mousse. 
Repeat the layers and top with, Coconut Yoghurt, Strawberries and Vanilla Shortcake Crumbs.