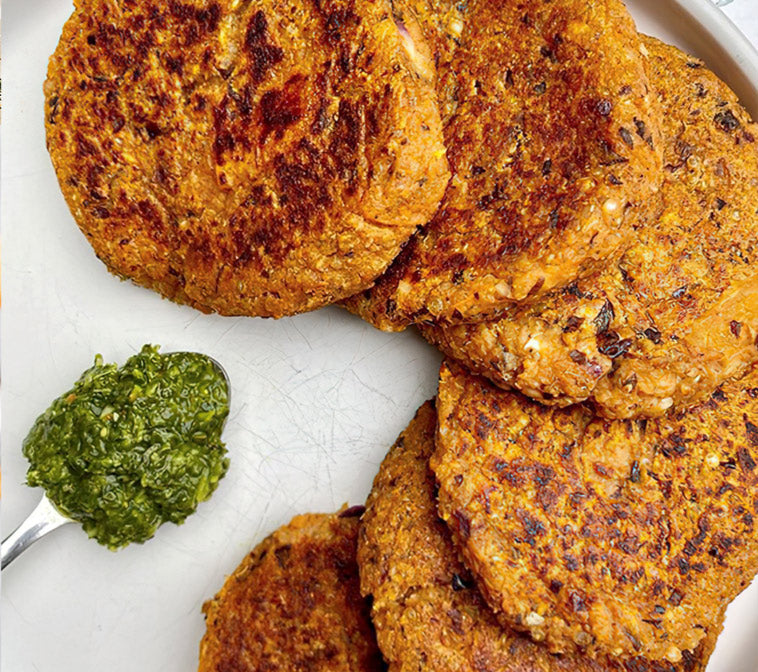 1 min read
Sweet Potato, Black Bean & Quinoa Patties
Posted By
Anna Kondratova
Time: 60 min Serves: 10
These patties are such a delicious source of plant protein and good carbs to add to any meal. I added half the batch to the freezer, to pop in the oven for when I want a quick meal.
Ingredients:
1 tin black beans, drained
2 medium sized sweet potatoes (baked & flesh scooped out)
1/3 cup raw quinoa cooked
1 cup rolled oats
½ red onion
1 tsp ground cumin
1 tsp ground paprika
salt & pepper to taste
Method
1.Set oven to 180 degrees. Pierce fork into sweet potatoes and add to oven whole and bake for 45 mins or until soft.
2. Add quinoa to a pot and add 2/3 cup of water, simmer until fluffy, should take about 15 mins
3. Add rolled oats with spices in food processor or mixer until broken down and fine
4. Add the sweet potato flesh, onion, black beans, garlic to your food processor and mix it all together until is broken down but not puréed.
5. Place mixture in the fridge for about 20 mins to set.
6. Make mixture into patties by getting a heaped tbs, roll with hands and flatten on pan with some olive oil + cook until crispy, about 5 mins each side. The smaller and more compact the better and more they will stay together
Enjoy!
Recipe by: JULIA TELLIDIS @wholesomelyhungry