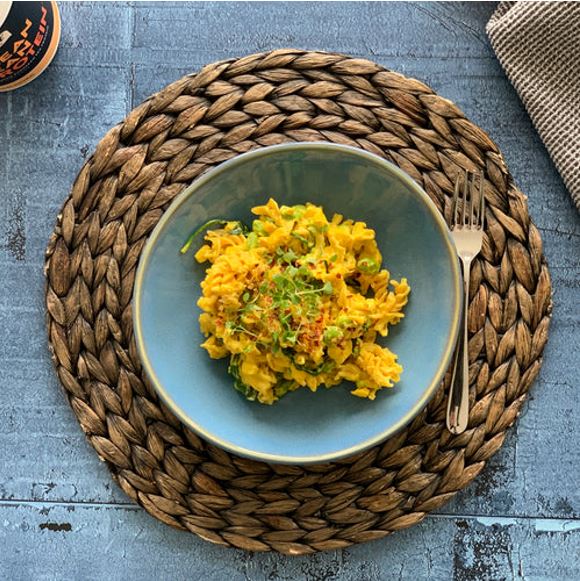 1 min read
Cheezy Pasta
Posted By
kerry locatelli
This vegan cheezey pasta dish is quick and easy to make, and it's just delicious. What makes it even better is that its full of nourishing ingredients and packed with protein.
Ingredients
½ cup Cashew Nuts, raw
½ cup Water
1 scoop Clean Lean Protein Just Natural (12.5g)
2 Tbsp. Lemon Juice
2 Tbsp. Nutritional Yeast
½ tsp Salt
¼ tsp Onion Powder
¼ tsp Turmeric
½ cup Frozen Edamame
½ cup Frozen Corn
2 handfuls Baby Spinach Leaves
100g Organic Black Bean Spaghetti by Explore Cusine
Or
100g Organic Chickpea Fusilli by Explore Cusine
*you can use any pasta you like. I have chosen Black Bean Spaghetti because of the nutritional profile, the colour and the flavour- it ticks all the boxes for me. Per 50g serve, it has 22g of protein, around 7g of carbohydrates, around 10g of fibre and around 3g of fat- not your usual pasta nutritional breakdown! Its also gluten free.
Optional Garnish:
Chilli flakes
Black pepper
Sprouts
Who doesn't love a nutritious meal that's quick to make and taste delicious?
Method
Pour boiling hot water over the cashew nuts and allow them to stand for 5 mins. Add the water, Clean Lean Protein, lemon juice, nutritional yeast, salt, onion powder and turmeric to a blender and then add the cashew nuts (drained). Blend on high til the cheezey sauce is smooth. To a pot of boiling water, add the pasta and the frozen edamame and corn. Cover with a lid and bring it back to the boil. After 5mins cooking, drain the pasta and vegetables, add back to the pot with the cheezey sauce and spinach, and heat through gently (enough for the spinach to wilt and the cheezey sauce to heat through). Serve garnished with chilli flakes, black pepper and sprouts as desired. Enjoy!