Kids Good Stuff Single Serves
Kids Good Stuff is a great way to help your kids get all the nutrients they need to keep them happy and healthy from the inside out. 
Made from real fruit and veg, with protein, calcium, probiotics and more, it's the all-in-one nutritional support their growing bodies need. Plus, there's absolutely zero bad stuff! It's quick, easy, healthy and delicious ....YUM! 
Low sugar • Vegan • Gluten free • Dairy free • Nut free • Non-GMO
How to use
Add contents of one sachet (15g) to 250ml of water and shake or stir. Also perfect in smoothies!
Subscription Info
Never run out! Our monthly subscription delivers your order every 30 or 60 days. First order is 20% off. All recurring orders thereafter are 10% off. You can cancel your subscription at any time.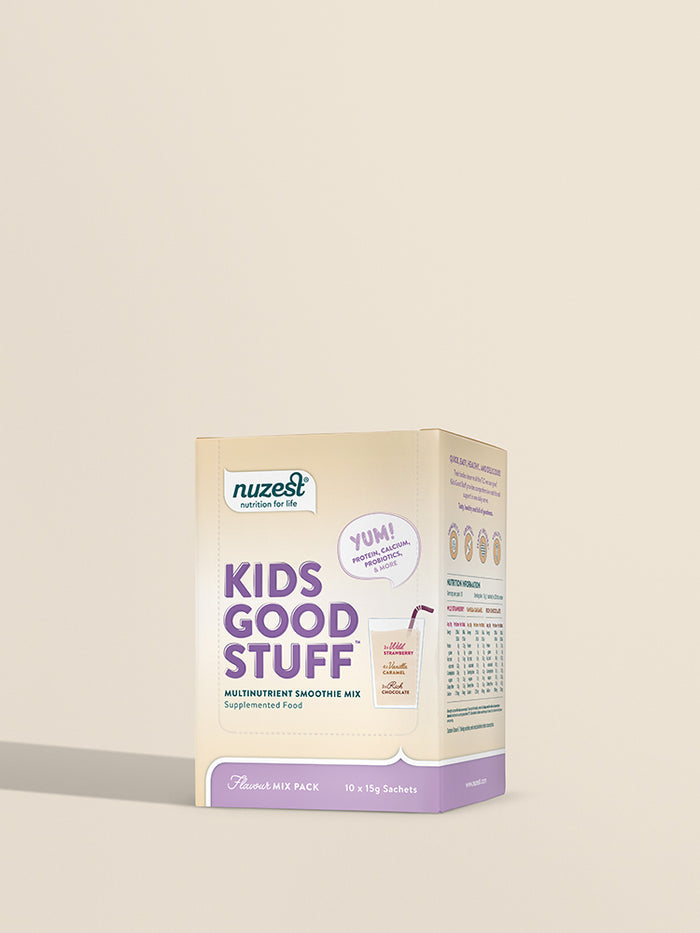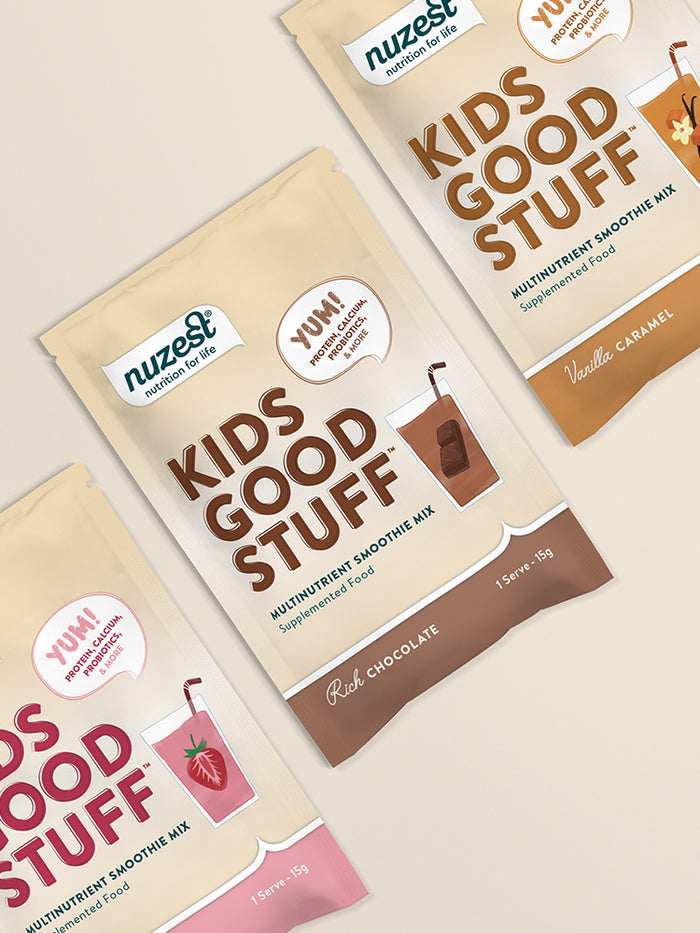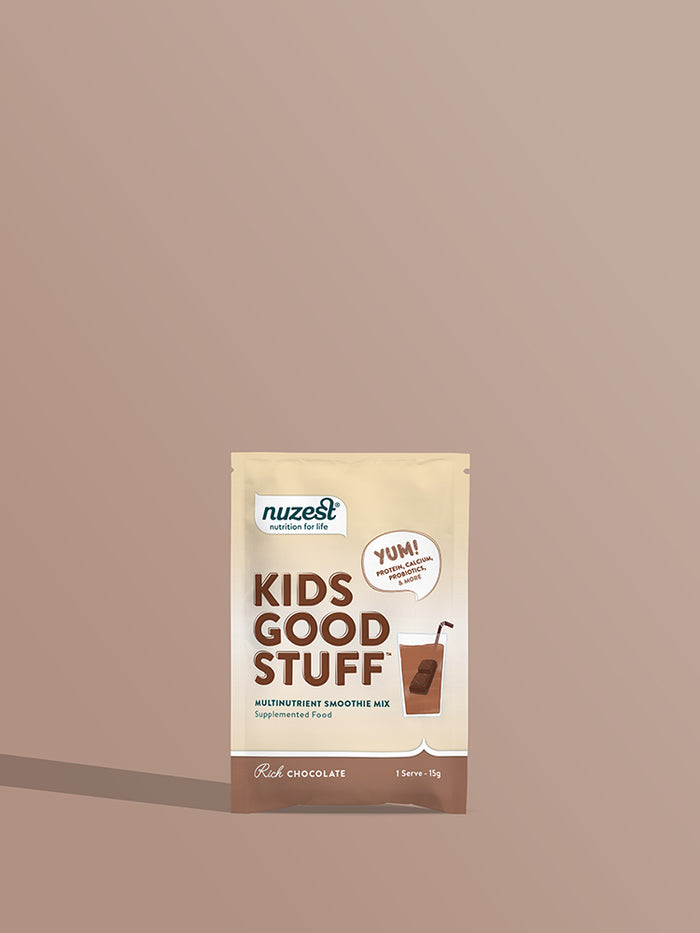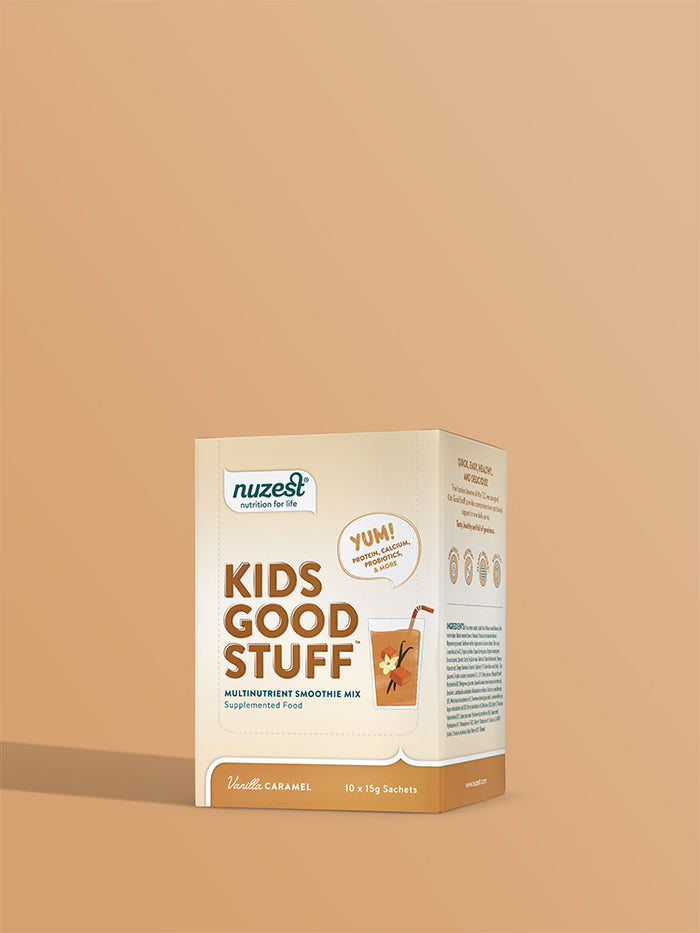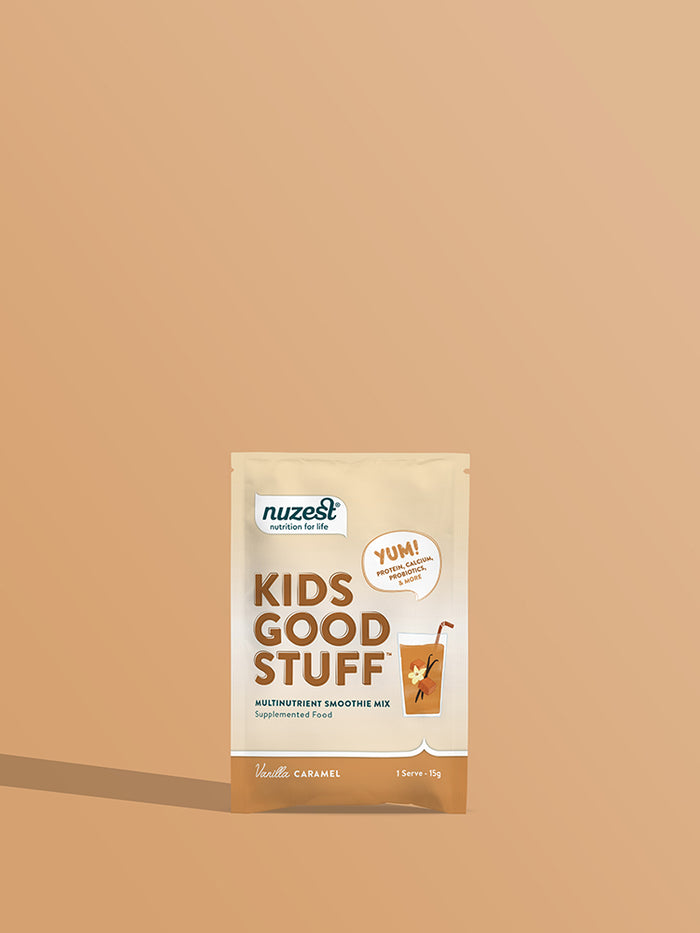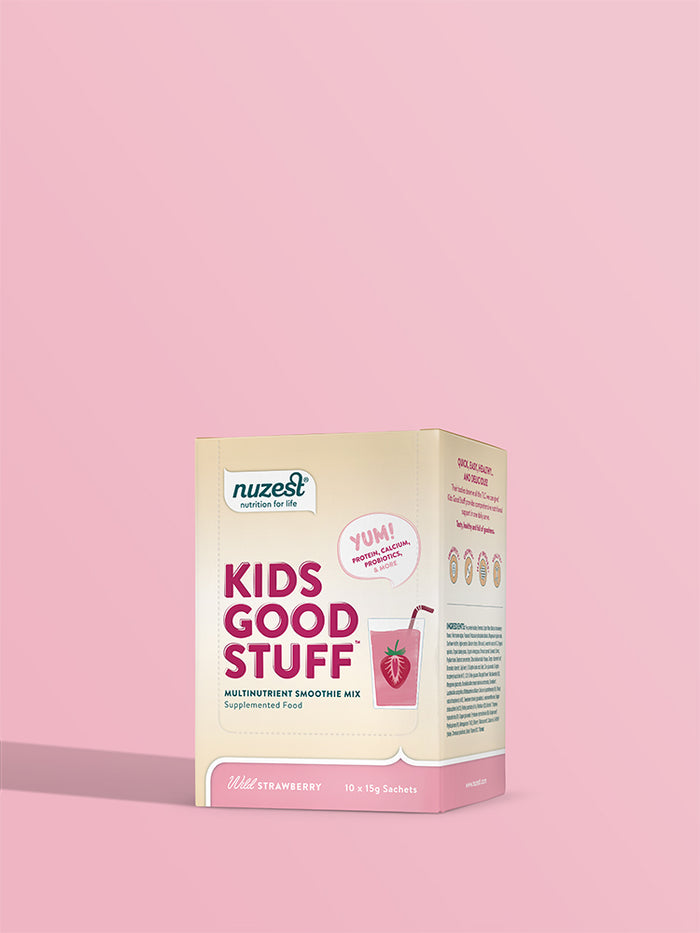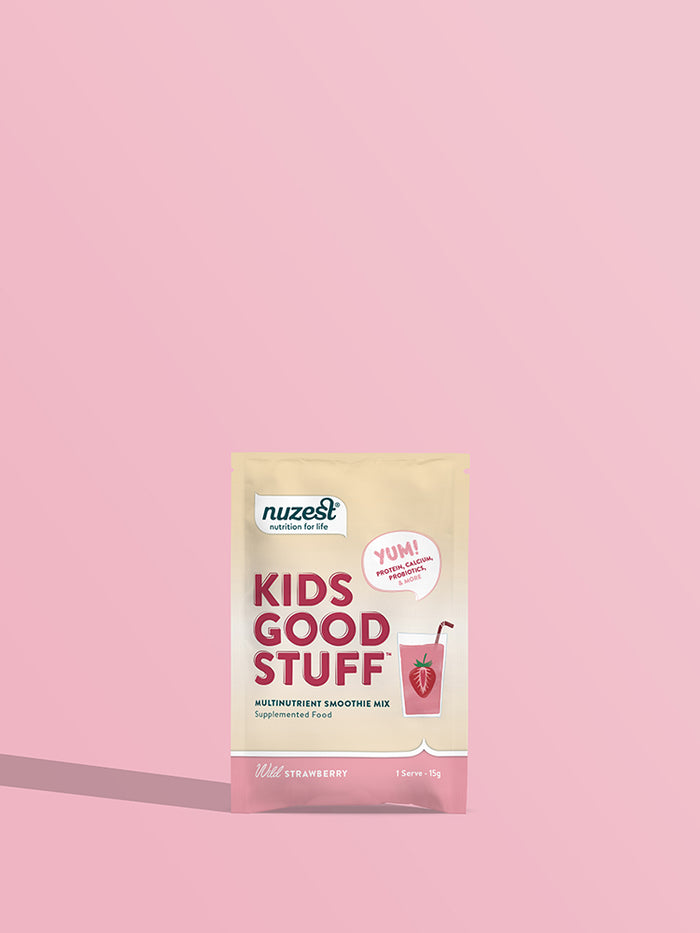 Nutritionals
Vanilla Caramel
Best Sellers
Vanilla Caramel
NUTRITION INFORMATION
Serving size: 15g (1 sachet) in 250mL water
Avg. Qty.
Per Serve
Energy
213kJ
51Cal
Protein
8g
-gluten
0g
Fat, total
0.4g
-saturated
0.1g
Carbohydrate
3.3g
-sugars
1.1g
Dietary fibre
1.2g
Sodium
225mg
Probiotics
3B CFU
VITAMINS
Per Serve
%RDI*
Vitamin A
400mcg RE
80%
Vitamin B1
2.2mg
293%
Vitamin B2
3.4mg
453%
Vitamin B3
10mg
100%
Vitamin B5
5mg
118%
Vitamin B6
1.6mg
200%
Vitamin B9
200mcg
80%
Vitamin B12
5mcg
333%
Vitamin C
100mg
267%
Vitamin D3
10mcg
200%
Vitamin E
10mg TE
138%
Vitamin K
80mcg
200%
Biotin
60mcg
375%






MINERALS
Per Serve
%RDI*
Calcium
206mg
22%
Chromium
20mcg
105%
Copper
300mcg
27%
Iodine
75mcg
71%
Iron
1.4mg
16%
Magnesium
55mg
22%
Manganese
1mg
38%
Selenium
21mcg
53%
Zinc
6mg
120%
A WHOLE LOT MORE GOODNESS

PLANT FOODS
Per Serve
Pea protein isolate
9.4g
Red marine algae
500mg
Flaxseed
250mg
Sunflower lecithin
200mg
Barley grass (organic)
100mg
Beetroot
100mg
Broccoli sprout
100mg
Carrot
100mg
Spinach
100mg
Spirulina (organic)
100mg
Wheatgrass (organic)
100mg
Papaya
50mg
Ginger
40mg






PLANT EXTRACTS1
Per Serve
Blackcurrant (200:1)
200mg
Grape seed (120:1)
200mg
Acerola (4:1)
100mg
Bilberry (100:1)
100mg
Goji berry (4:1)
100mg
Kelp (5:1)
97mg
Brahmi (20:1)
50mg
Dandelion (4:1)
30mg






FIBRES & PROBIOTICS
Per Serve
Apple fibre
963mg
Apple pectin (prebiotics)
200mg
Psyllium husk
100mg
Bifidobacterium bifidum
1.5B CFU
Lactobacillus acidophilus
1.5B CFU






SPECIALTY BLEND
Per Serve
Citric acid
150mg
Citrus bioflavonoids
70mg
Bromelain (enzyme)
30mg
R,S alpha-lipoic acid
20mg
1,3/1,6 Beta-glucans (70%)
11.5mg
Dunaliella salina (mixed natural carotenoids)
8mg
Mixed natural tocopherols
5mg
Lutein
2mg
Zeaxanthin
0.4mg
*% Recommended Dietary Intake for children aged 4-13 (NRV, 2006) (average). ǂSee vitamin and mineral forms in the ingredient list. 1Extract equivalent amount. All weights and specified values are averages. *Use as part of a healthy, varied diet. Always read the label and use only as directed.
Contains Vitamin K. If taking warfarin, seek medical advice before consumption.
Best stored in a cool dry place below 25°C. Refrigerate after opening and use within 100 days.
Not suitable for children under the age of 4 years. Do not take more than one serve per day.
INGREDIENTS
Pea protein isolate, Apple fibre, Natural vanilla flavour, Red marine algae, Natural caramel flavour, Flaxseed, Potassium phosphate dibasic, Magnesium gluconate, Sunflower lecithin, Apple pectin, Calcium citrate, Citric acid, L-ascorbic acid (vit C), Organic spirulina, Organic barley grass, Organic wheatgrass, Broccoli sprout, Spinach, Carrot, Psyllium husk, Beetroot, Citrus bioflavonoids, Papaya, Katemfe fruit†, Ginger, Bromelain, Acerola†, Goji berry†, R,S alpha-lipoic acid, Kelp†, Zinc gluconate, D-alpha tocopheryl succinate (vit E), 1,3/1,6 Beta-glucans, Marigold flower†, Nicotinamide (B3), Manganese gluconate, Dunaliella salina (mixed natural carotenoids), Dandelion†, Lactobacillus acidophilus, Bifidobacterium bifidum, Calcium d-pantothenate (B5), Mixed natural tocopherols (vit E), Sweetener (steviol glycosides), L-selenomethionine, Vegan cholecalciferol (vit D3), Retinyl palmitate (vit A), Riboflavin (B2), Brahmi†, Thiamine hydrochloride (B1), Copper gluconate, Pyridoxine hydrochloride (B6), Grape seed†, Phylloquinone (K1), Menaquinone-7 (K2), Bilberry†, Blackcurrant†, Calcium L-5-MTHF (folate), Chromium picolinate, Biotin, Vitamin B12. †Extract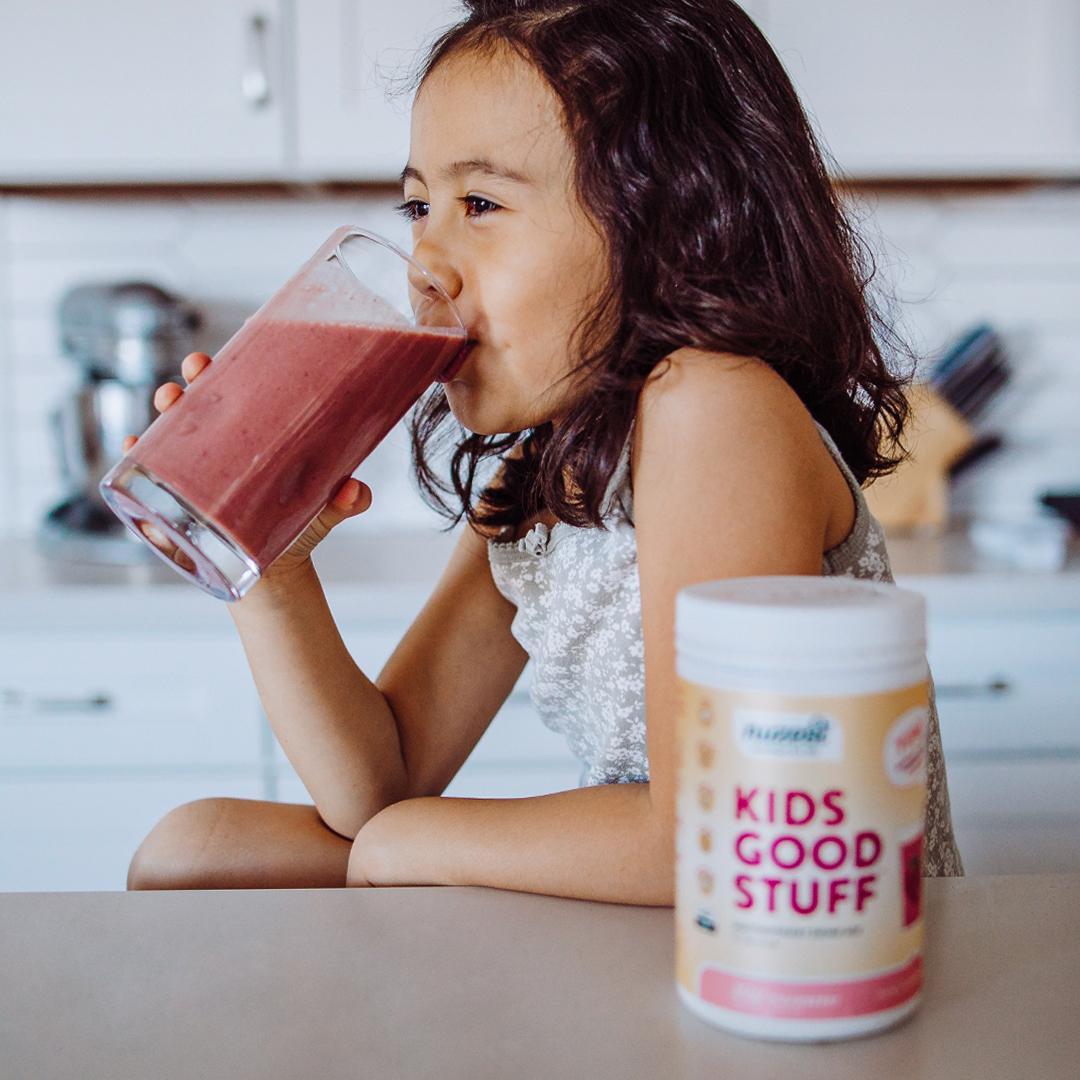 Kids are what they eat
Improved immunity
Fill in the nutrient gaps by boosting vitamin & mineral intake.
Healthy bones
With 200mg of calcium,8g of plant-based protein, and vitamins D3 and K2, every serve is supporting your child's growth and development.
Happy tummies
With microbiotics, fibre and dietary enzymes for good digestion and gut support.
Go ahead, read the fine print.
Give your kids a nutritional start to life with a delicious healthy shake the will love
All-in-one
A clean and simple base of 11 different fruits and vegetables, protein, 20 vitamins and minerals and much more to help fill nutritional gaps from fussy eating or food intolerances
Just good stuff
Real food with vitamins and minerals in their most bioavailable forms. No added sugar, no fillers or preservatives, no artificial flavours. Everything their growing bodies need, and nothing they don't.
Easy to digest
We only use ingredients that their bodies can easily digest and absorb and add dietary enzymes to assist the process.
Hypoallergenic
Kids Good Stuff is free from gluten, peanuts, and other major allergens. Feed your kids with peace of mind.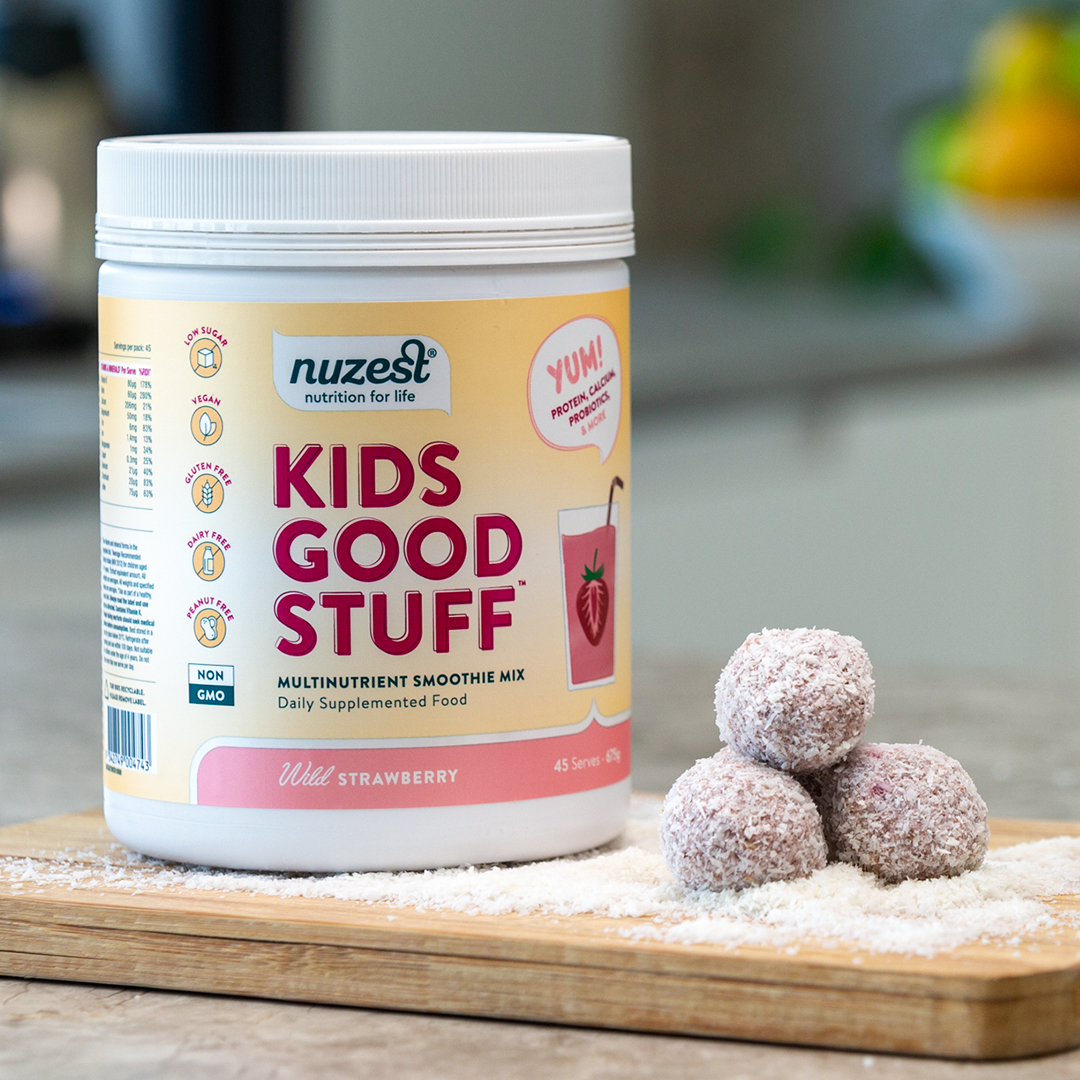 The best the planet has to offer
Led by nature and backed by science, the power of Nuzest nutrition products lies in the fact that we use the best and most bioavailable forms of ALL ingredients (not just one or two), in meaningful quantities, for meaningful results.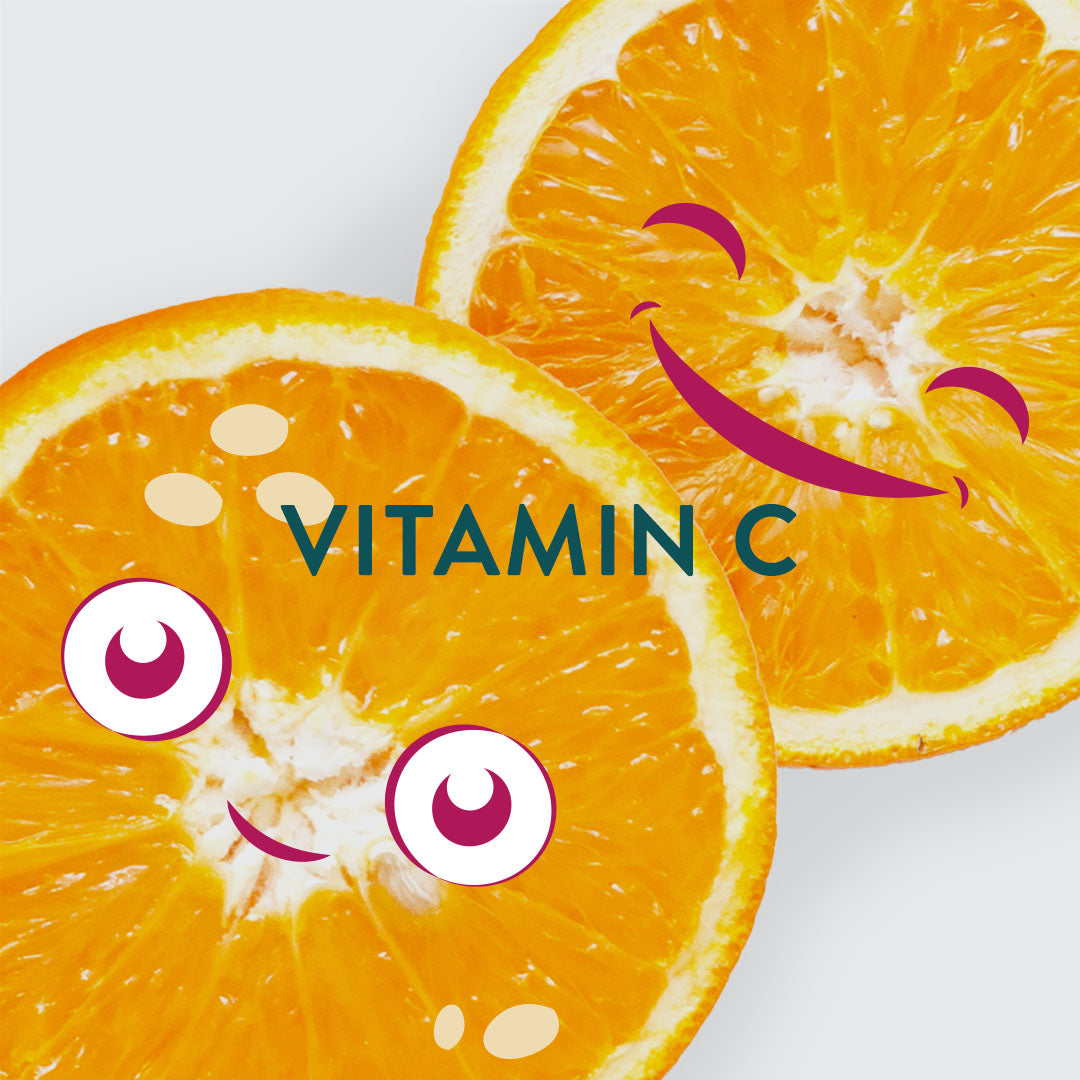 Vitamin C
L-ascorbic acid: 100mg
The human body does not make vitamin C, so consuming it is essential. L-ascorbic acid is the gold standard for supplementation. Vitamin C is an essential nutrient involved in the repair of tissue, the formation of collagen, and the production of certain neurotransmitters. It has strong antioxidant effects and plays a crucial role in wound healing and immunity.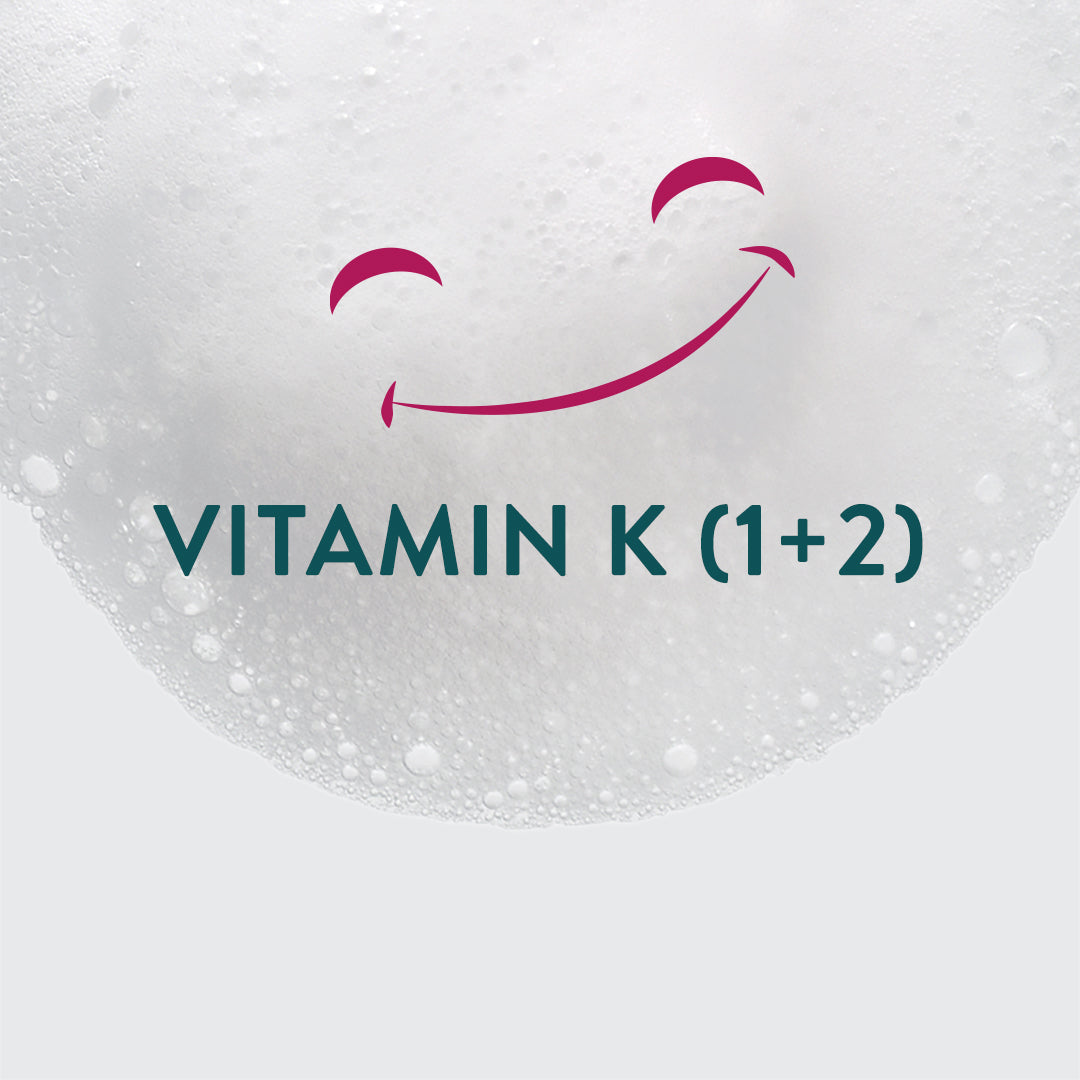 Vitamin K
1 & 2 (Phylloquinoine and MK-7): 80mcg
Vitamin K plays an important role in blood clotting, calcium metabolism and heart health. Whilst K1 is the main dietary form, K2 is reported to be responsible for moving calcium from our blood to the bones and teeth. It is therefore particularly important for bone health in growing children.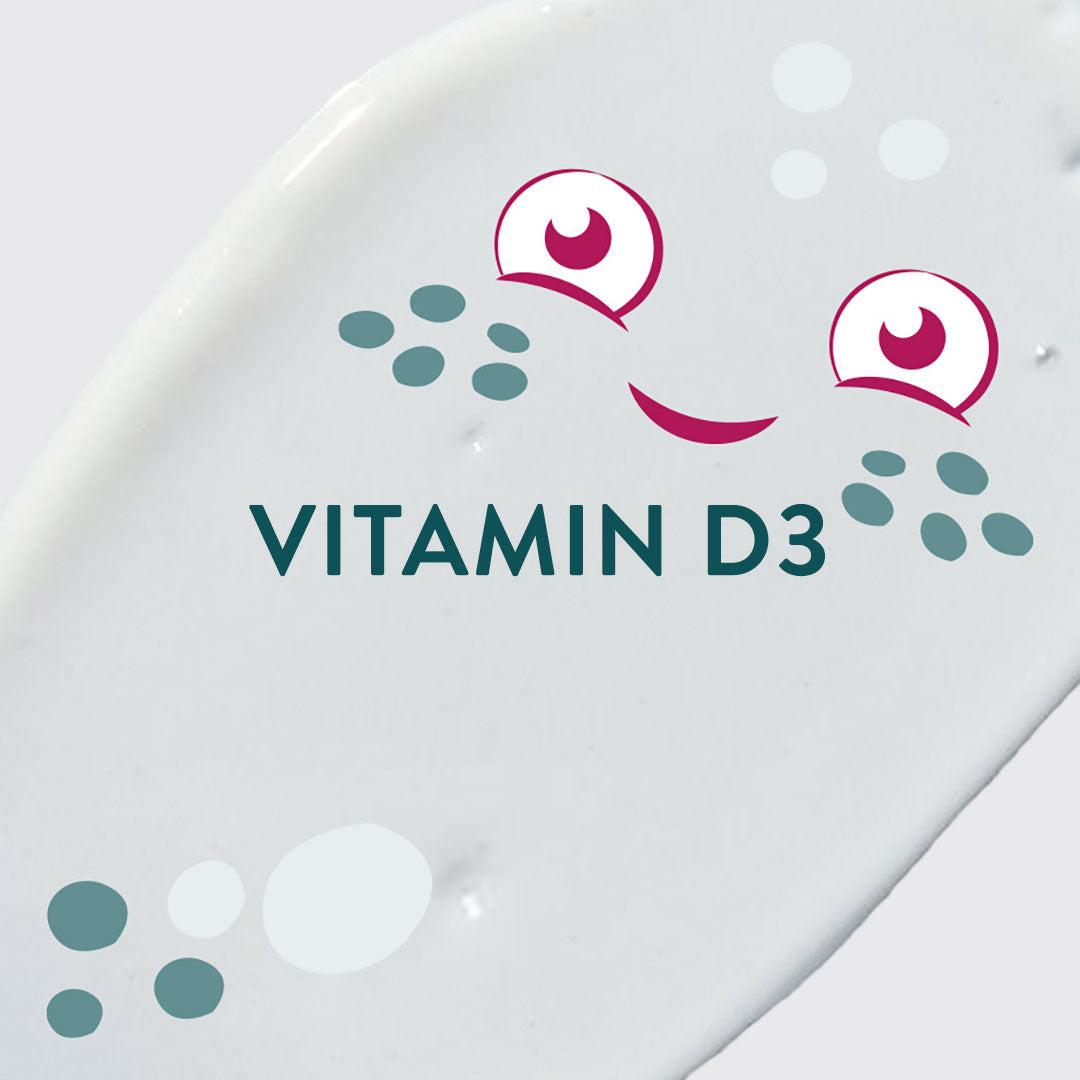 Vitamin D
Cholecalciferol from Lichen: 10mcg
Vitamin D has been shown to promote healthy bone development and strengthen the immune system in children. Cholecalciferol (D3) is the form produced by the body when the skin is exposed to sun. Lichen is a rare vegan source.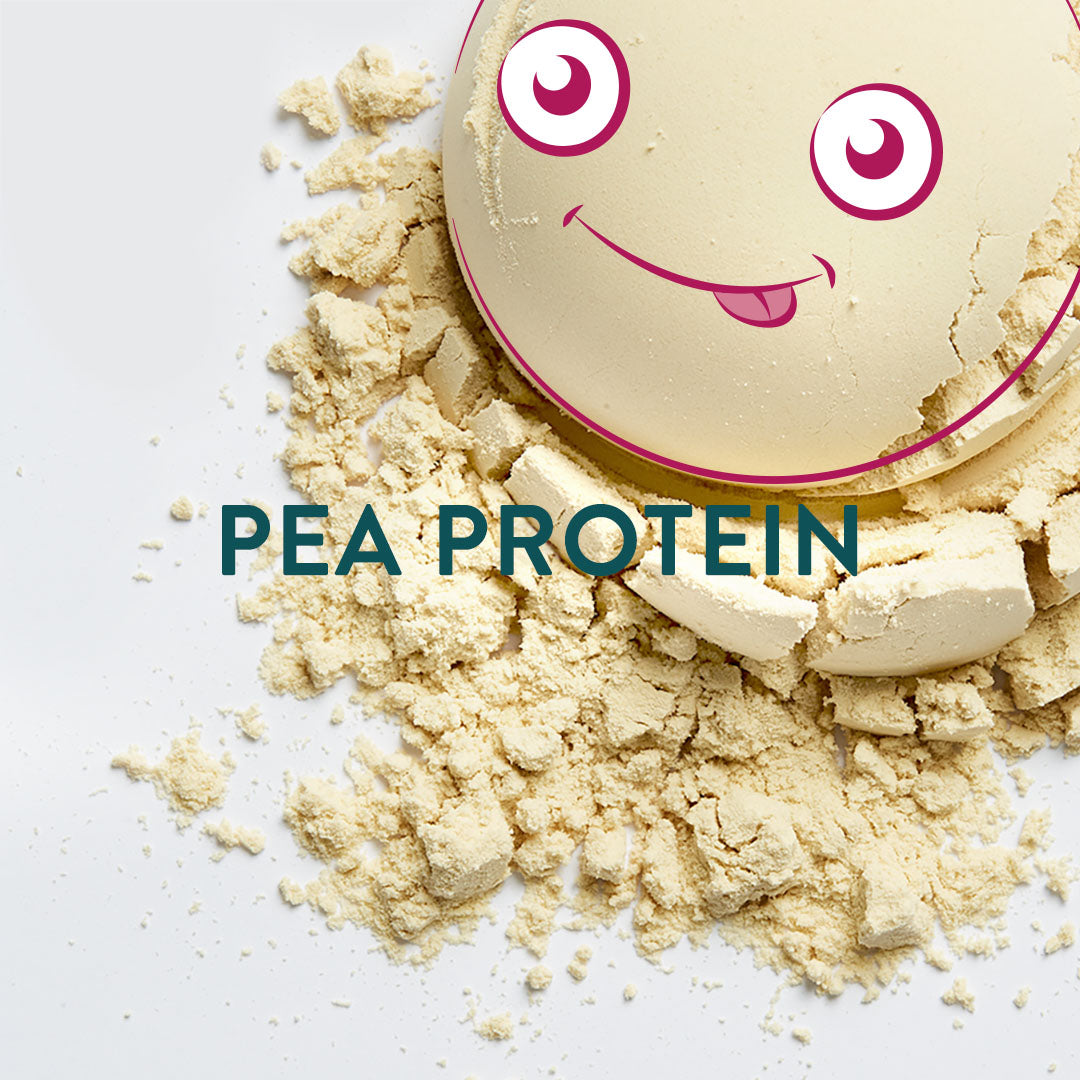 Protein
Pea protein isolate: 8g
Protein provides the building blocks for all cells, tissues, and organs in the body. It is essential for growth and development. We use high quality European Golden Peas providing a hypoallergenic source of plant-based protein. The peas are isolated without the use of chemicals or artificial substances and provide all the essential amino acids.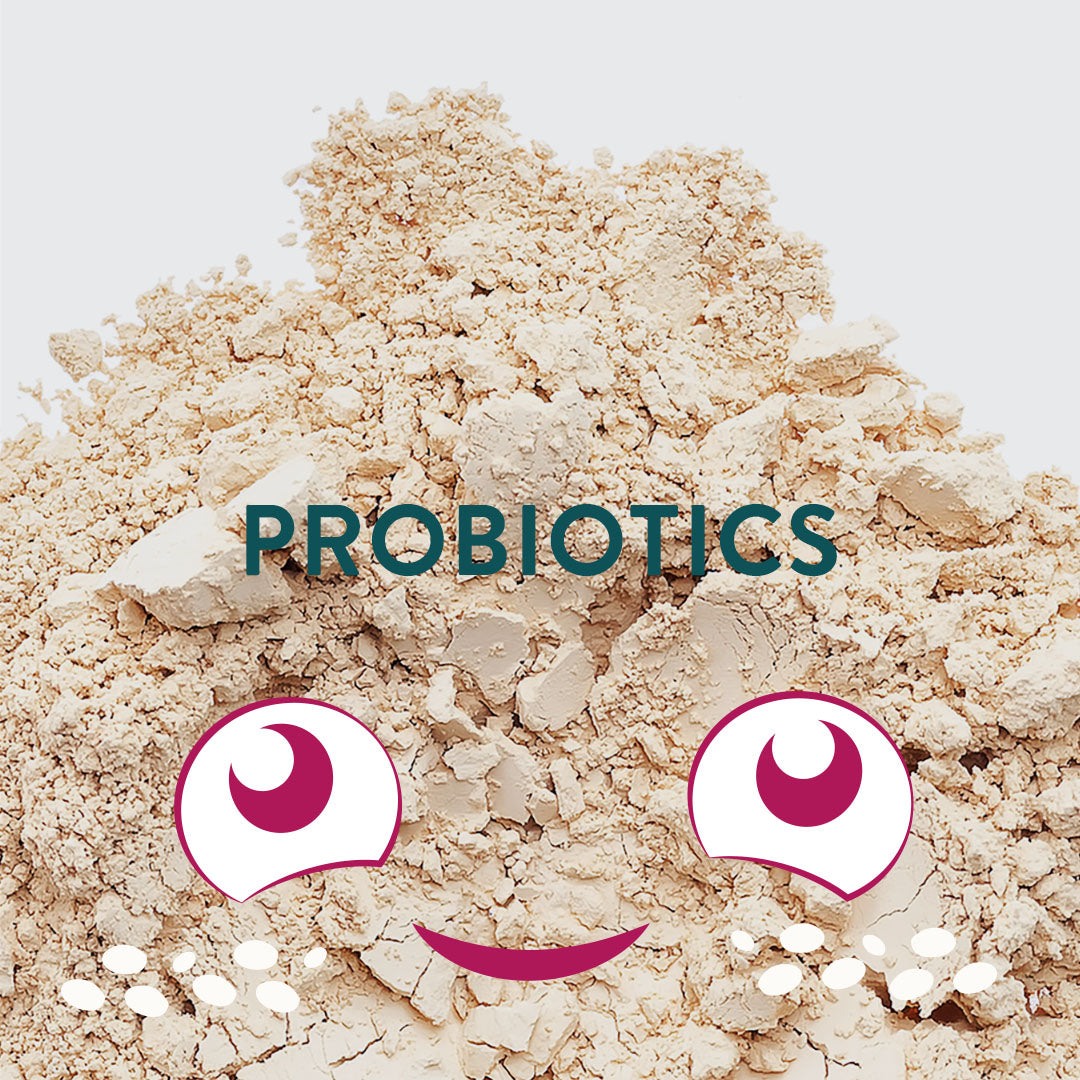 Probiotics 2
3 Billion CFU
Probiotics support a healthy microbiome. We have included two strains, Lactobacillus acidophilus and Bifidobacterium bifidum, which have been found to bind to toxins (such as Aflatoxin), effectively removing them from the body. Designed to make little tummies feel good.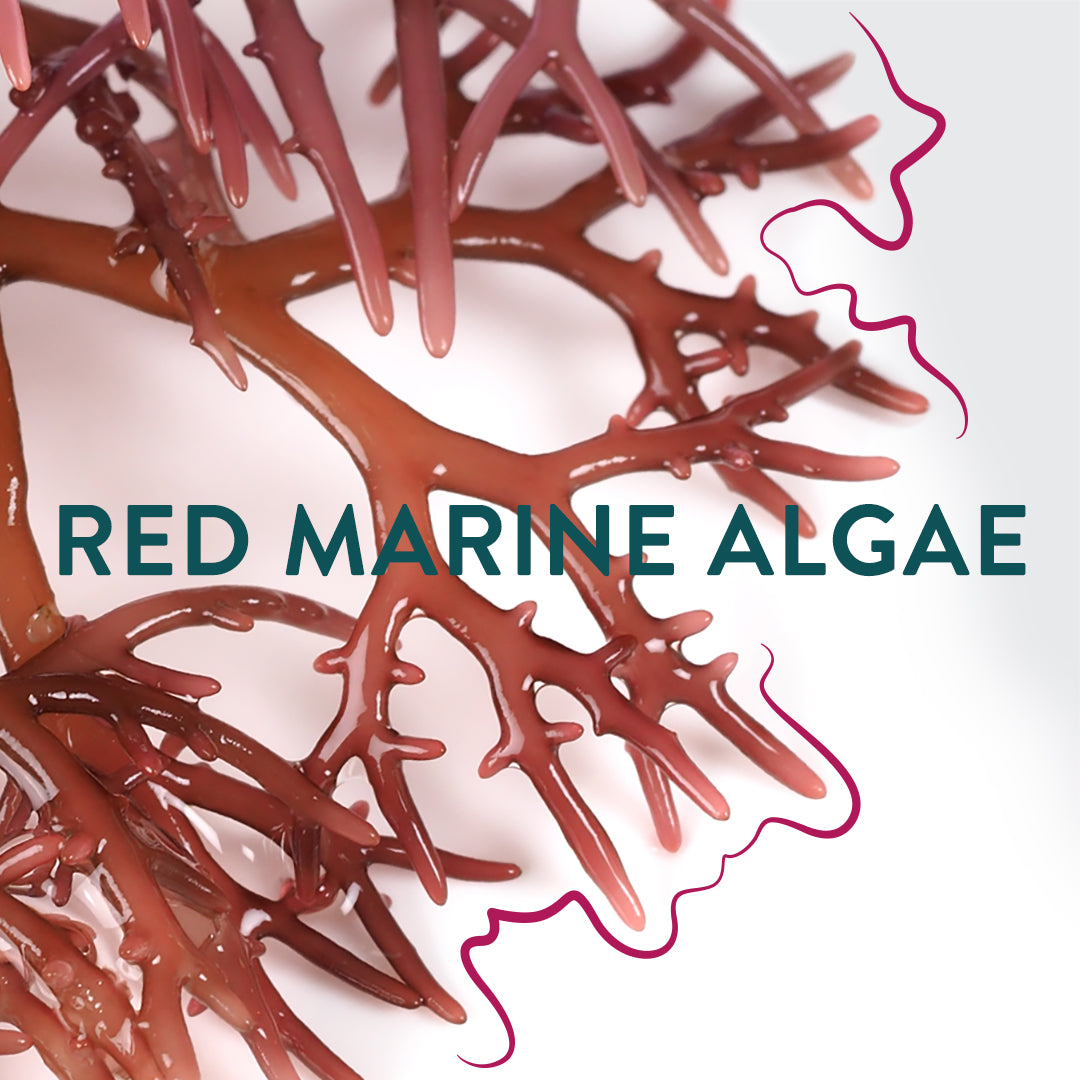 Red Marine Algae 2
Aquamin®F: 485mg
Red marine algae (Lithothamnion calcareum), harvested from the North Atlantic, is our primary source of natural calcium, as well as a complex supply of synergistic minerals and trace nutrients supporting overall health. Calcium is critical to the formation and growth of strong, healthy bones and teeth.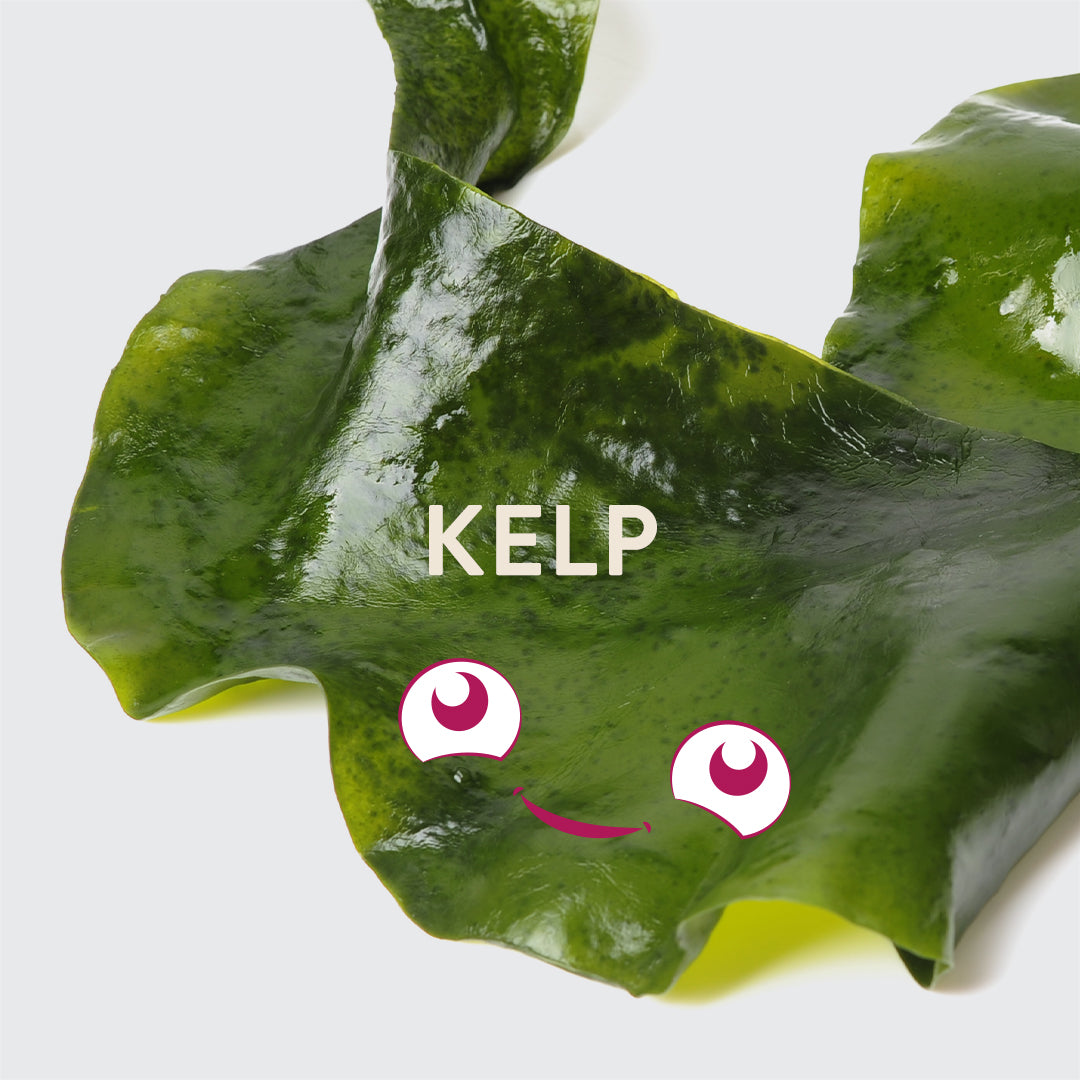 Kelp 2
Fucus vesiculosus extract: 195mg equiv.
Kelp is our natural source of Iodine, a mineral that is essential for the creation of thyroid hormones which are important for the growth of bones and nerves, and for how proteins, fats and carbohydrates are used in the body. It is essential in babies and young children for the development of the brain and nervous system.
See More
The Inside Scoop
Reviewed by Annabelle B., from New Zealand
Verified Buyer
I recommend this product
Product Standouts
Quality of ingredients
Ease of use
Blendability
Nutritional profile
Peace of Mind
Kids love it! One very fussy child so has it with nothing else mixed in. Great for either in their lunchboxes or an after school tummy filler. Great peace of mind knowing if they're having an off day with fruit and vege, this will be topping them up to get by.
Reviewed by Ashleigh M., from New Zealand
Verified Buyer
I recommend this product
Product Standouts
Nutritional profile
Ease of use
Blendability
Kids Smoothie
My children love this product in their morning smoothie. It gives me piece of mind that they are getting some additional nutrition in their breakfast.
Reviewed by Racheal B., from New Zealand
Verified Buyer
I recommend this product
Product Standouts
Nutritional profile
Results
Quality of ingredients
Digestability
Good stuff
This has definately made a difference to my childs well eing! She has alot more energy ! She wasnt keen to have them but after a week she feels the difference it makes her feel so we have kept her on it🙂