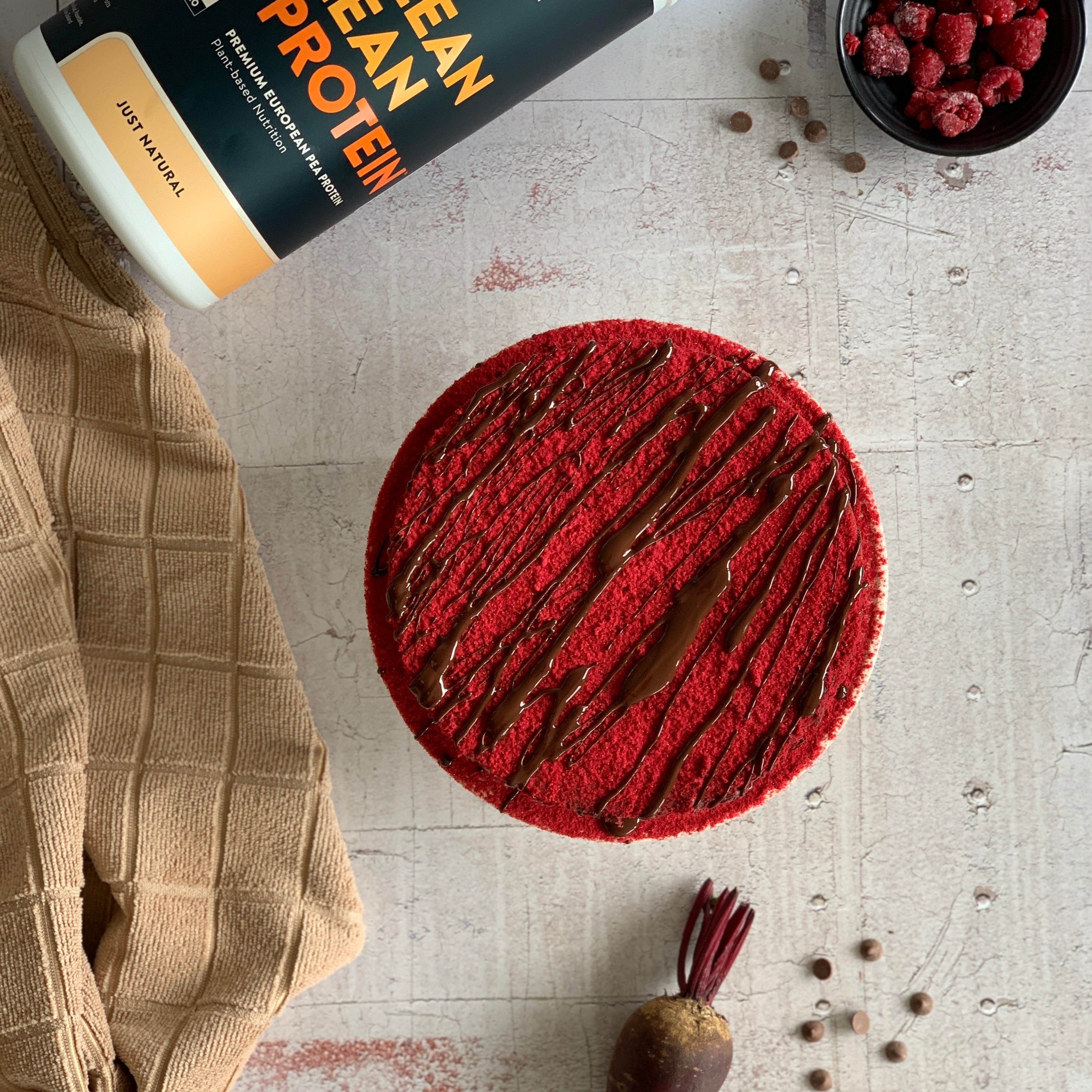 1 min read
Raspberry, Beetroot & Dark Chocolate Cake
Posted By
kerry locatelli
Valentines day is just around the corner and what better way to celebrate love than with cake. Chocolate cake. With Raspberries and beetroot. Yes please!
Its valentines and of course that means chocolate!
Especially rich dark chocolate cleverly paired with other nourishing ingredients that leave you feeling great.
Benefits of Beetroot
Beetroot is by far one of my favourite foods. It has a very specific earthy flavour that I love working with (and eating); and its incredibly good for us. Beetroot can go savoury or sweet.
Beetroot is packed with nutrients. Specifically folate, manganese, potassium, iron and vitamin C. It also contains plant compounds such as betanin and inorganic nitrates.
It's the nitrates found in beetroot that take centre stage when we are looking at the benefits of beetroot. In the body, these nitrates can be converted into nitric oxide which can improve blood flow, reduce blood pressure, and increase performance (inside and outside the bedroom).
Benefits of Raspberries
Raspberries are a great source of vitamin C and fiber, and they contain small amounts of many other nutrients such as Vitamin A, B Vitamins, Vitamin E, Vitamin K, iron, magnesium, manganese, potassium, phosphorus, copper, calcium and zinc. They are high in antioxidants which help reduce our risk of many chronic diseases.
Benefits of Dark Chocolate
Dark chocolate is one of the best sources of antioxidants we have and its also full of nutrients. Specifically, quality dark chocolate has iron, magnesium, copper, manganese, potassium, phosphorus, zinc and selenium.
Yes… dark chocolate is not just delicious- its really good for us too.
Benefits of Higher protein, Good fats and Fiber
When we eat a meal, snack or treat that is higher in protein, fat and fibre, it helps us to feel fuller for longer. They help to slow down the pace of digestion, the release of sugars into the bloodstream and help stabilise blood sugar levels. They have a balancing effect on our hunger hormones (reducing our hunger hormone ghrelin and increasing our satiety hormone peptide YY).
By Kerry Locatelli (BNat)
Ingredients
200g Dark Chocolate (melted)
200g Raw Beetroot (grated)
100g Raspberries (partially defrosted frozen raspberries work well)
1 Serve Just Natural Clean Lean Protein
100g Almond Flour
1 tsp Baking Powder
100g Xylitol
4 Eggs
1 Tbsp Cocoa Powder
Toppings to serve
Melted Chocolate
Dried Raspberries
Coconut yoghurt
Raspberries, beetroot and chocolate are a match made in heaven! 
Method
Preheat the oven to 170 C and grease a cake tin.
Separate the egg yolks and egg whites and whisk the egg whites with an electric beater until you have stiff peaks.
Mix the egg yolks, xylitol, beetroot, raspberries and cooled melted chocolate (hot melted chocolate will cook the egg). Add the Clean Lean Protein, almond flour and baking powder and mix well til all well combined.
Gently fold in the egg whites.
Pour into the cake tin and bake for 45 mins (depending on your oven).
I like to cover the cake with another baking tray for at least half the bake time to prevent it from burning (keep an eye on it).
Allow to cool and serve with more melted chocolate, raspberry powder and coconut yoghurt.