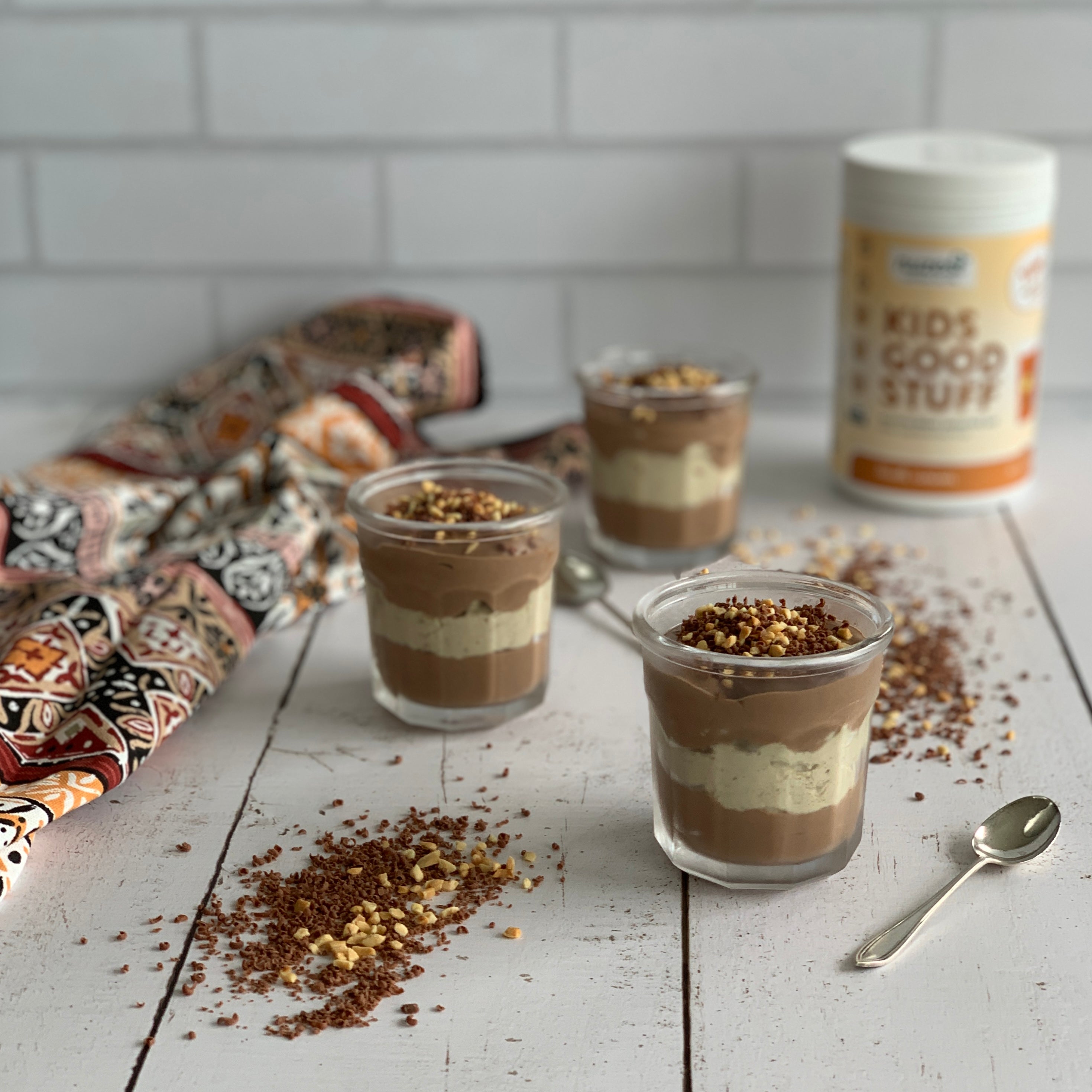 1 min read
Layered Peanut Butter & Chocolate Mousse
Posted By
Michael Lavender
A dessert to destroy all desserts.
Ingredients
Chocolate Mousse
300g Silken Tofu
100g Chocolate of choice- I used Healtheries Salted Caramel sugar free bars
2 Tbsp Maple Syrup or Xylitol
Peanut Butter Mousse
200ml Plain Coconut Yoghurt
2 Tbsp Peanut Butter- I used Pics Peanut Butter
1 Serve Kids Good Stuff Vanilla Caramel
Optional Toppings:
Chocolate shavings
Peanut Pieces
You have heard of Chocolate Mousse.... Yes. But what about Peanut Butter & Chocolate Mousse.... plus packed with protein... HECK YES! 
This is the dessert of all desserts, creamy, sweet and smooth. Not only is it packed with protein, it has all the added vitamins and minerals from the Kids Good Stuff. 
Recipe by Kerry Locatelli, BNat
Method
Blend the tofu, melted chocolate and maple syrup or xylitol together until smooth.
Place in the fridge to cool and start setting (20-30mins minimum).
Just before you are ready to assemble and serve, mix the coconut yoghurt, peanut butter, and Kids Good Stuff together til well combined.
Layer the chocolate mousse and the peanut butter mousse and sprinkle with chocolate shavings and peanut pieces.
Enjoy!
* The peanut butter mousse tastes yummier when it is mixed, assembled with the chocolate mousse and served straight away- it doesn't taste as yum if it stands for a long period of time.