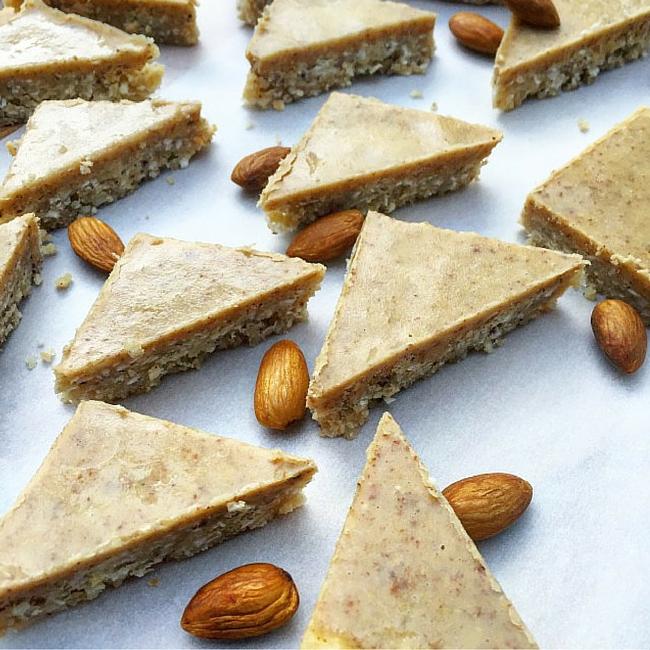 1 min read
Vanilla Coconut Protein Power Slice
Posted By
James LaBove
Ingredients
FOR THE BASE:
1 serving Nuzest Vanilla Protein
1 cup brazil nuts
1 cup + 2 tbsp desiccated coconut
3 tbsp almond meal
1 tbsp stevia/xylitol/maple syrup
1/2 tsp vanilla bean powder/extract
Pinch sea salt
1/3 cup coconut milk
FOR THE TOPPING:
3 tbsp coconut oil
4 tbsp natural almond butter
1 tbsp maple syrup
1/2 tsp vanilla bean powder/extract
Pinch sea salt

This little protein power slice is full of all the goods without any of the nasties for a quick and easy snack or treat on-the-go. The protein powder and nuts offer plenty of protein and healthy fats for lasting energy and the use of Brazil's provides you with your dose of thyroid-healthy selenium for the day! These are raw, so be sure to keep them close to a freezer, as they do melt. I love to enjoy one mid-morning or for a post-dinner healthy indulgence. You really wouldn't know they are healthy but lucky for us, they are
Method
1. In a food processor, process the dry base ingredients until crumb-like.
2. Add the coconut milk and continue processing until a thick dough forms.
3. Line a medium 16 x 16 baking tray with non-stick baking paper, and spoon the base mixture in, pressing down firmly to spread evenly and form a solid crust.
4. Place the base in the freezer for 15 minutes while you make the topping.
5. Once fully melted, combine the oil with the almond butter, maple syrup and vanilla in the processor until smooth.
6. Pour the topping over the base, using a spatula to smooth out. Sprinkle with salt.
7. Cover the tray with glad wrap and freeze entire slice for at least 1 hour before serving.
8. Once ready, remove from freezer and allow to sit for 5 minutes before slicing. Serve or store in an airtight container in freezer.
Recipe and image by Sami Bloom. www.samibloom.com