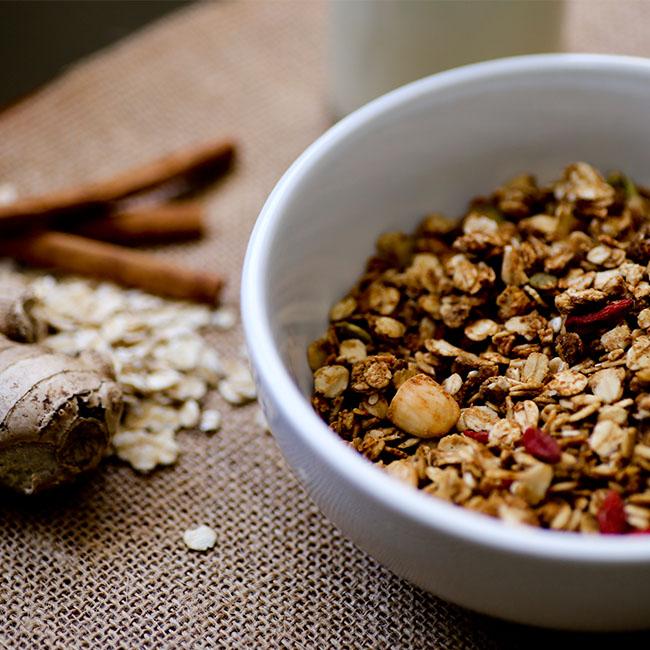 1 min read
Gingerbread Granola
Posted By
Monique Bolland
Ingredients
2 cups rolled oats
½ serve Nuzest Smooth Vanilla or Just Natural Clean Lean Protein
½ cup chopped almonds
2 tbsp raw pepitas
2 tbsp shredded coconut
½ tbsp raw sesame seeds
¼ tsp ground ginger
¼ tsp ground cinnamon
½ tsp vanilla powder (or extract)
Pinch of salt
1 tbsp molasses
2 tbsp brown or coconut sugar
2 tbsp unsweetened apple sauce
1 tbsp vegetable oil or melted coconut oil
¼ cup dried fruits

This irresistible spiced granola tastes just like gingerbread. An easy, healthy homemade gingerbread granola recipe. Perfect on cooler mornings.
Method
1. Heat oven to 150 degrees Celsius
2. Add all ingredients, except the dried fruits, in a large bowl and mix until well combined
3. Line a tray with baking paper and spread mixture into a thin layer
4. Bake for about 60 minutes or until golden brown, stirring every 20 minutes to ensure even cooking.
5. Remove mixture from oven & allow to cool before stirring through dried fruit
6. Store in an airtight container for up to 10 days