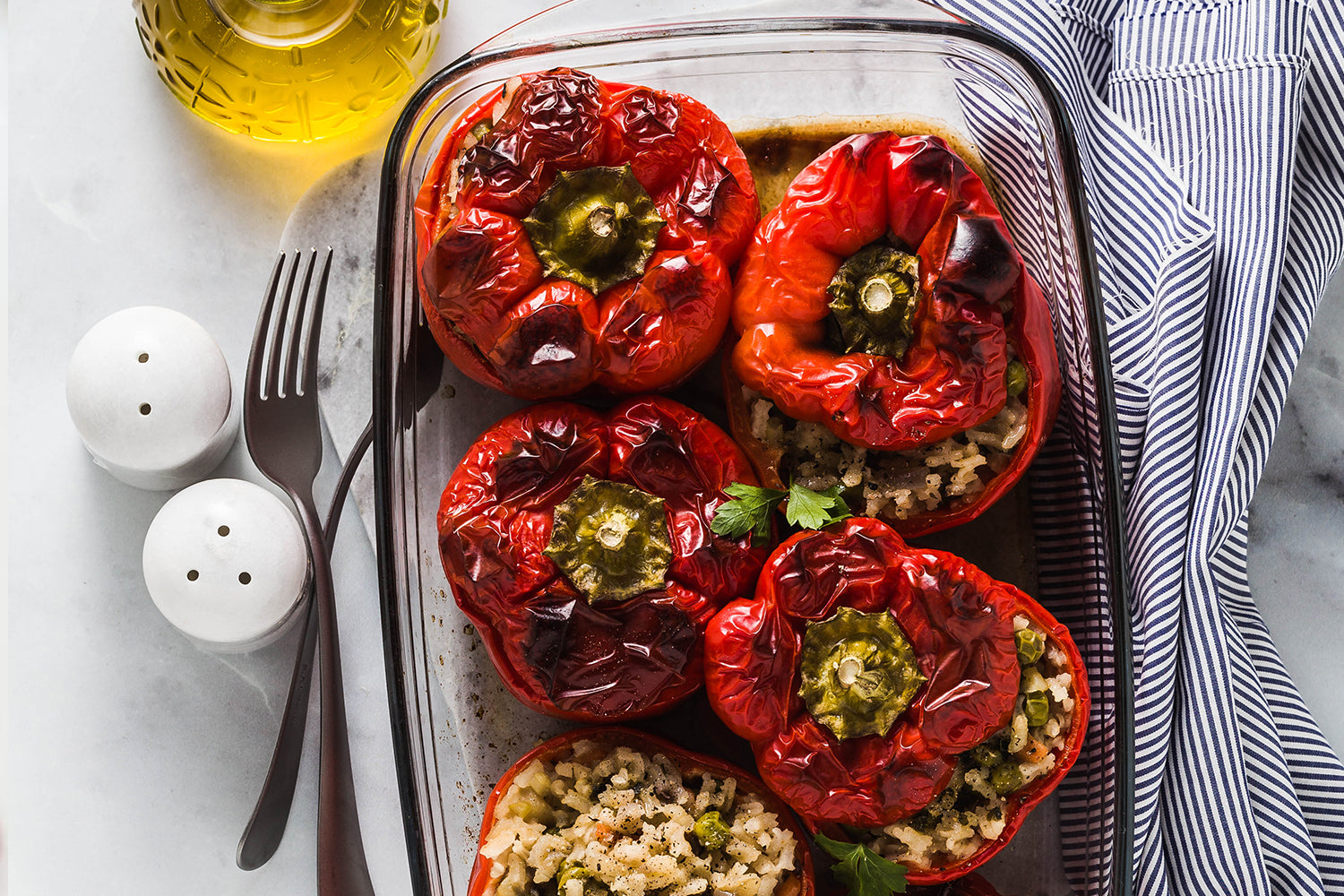 3 min read
GREEK STUFFED CAPSICUMS
Posted By
Emma Linnea
Prep: 30   Cook: 90   Makes: 5
A plant-based favourite – a great recipe for dinner and extra leftover lunches!
Ingredients:
∙ 5 capsicums
∙ 100g brown rice
∙ 1 cup peeled and chopped tomatoes OR 1 x 400 g tin
∙ 2 tbsp fresh mint, chopped
∙ 2 tbsp fresh parsley, chopped
∙ 10 Kalamata olives, de-stoned & chopped
∙ 2 tbsp raisins, chopped (optional)
∙ 2 tbsp pine nuts (or sliced almonds), roasted
∙ 2 tbsp extra virgin olive oil
∙ 1/2 small red onion, finely diced
∙ 2 large garlic cloves, pressed
∙ salt & pepper, to taste
∙ 1/2 tsp sugar
∙ ½ tsp hot chilli flakes (optional)
Sauce
∙ 4 tbsp extra virgin olive oil
∙ ½ cup peeled and chopped tomatoes
∙ 1 tbsp tomato paste
∙ ½ cup water
∙ salt & pepper, to taste
­­­


Method
Set the oven to 180° C.
Wash your capsicums, cut 1-2 cm off the top and keep the tops. Make sure you don't cut too close to the base of the stalk as it may become loose and you want the tops left intact to keep the filling nice and moist. De-seed the capsicums and arrange them in a baking tray so that they fit quite snugly – if you don't have enough to fill the tray, make sure you pick capsicums that are stable as you don't want them to collapse half-way through the cooking time. Sprinkle a pinch of sugar at the bottom of each capsicum.
OPTIONAL STEP: You can blitz tomatoes if you don't want to have bits of tomato in your stuffing, I usually chop mine very finely and it does the job. You could also sauté your onion and garlic before you incorporate them into the filling.
Mix all of the filling ingredients together. Spoon the filling into the capsicums, but be sure not to overfill – the mixture should be roughly level with the cut so that there is room for expansion under the tops. Put the tops back on.
In a mixing jug combine all the ingredients for the sauce. Pour the sauce to the bottom of the tray, in amongst the capsicums.
Cover the tops of capsicums with a piece of foil and put into the oven for 90 mins. After 45 mins remove the foil so that the tops get a chance to brown nicely. Check if rice is cooked before removing from the oven, if it's still a little hard, leave them in a warm (switched off) oven for another 30 minutes to finish off cooking.
Allow the capsicums to cool down before eating.
They're best enjoyed with a green salad and some crusty bread.