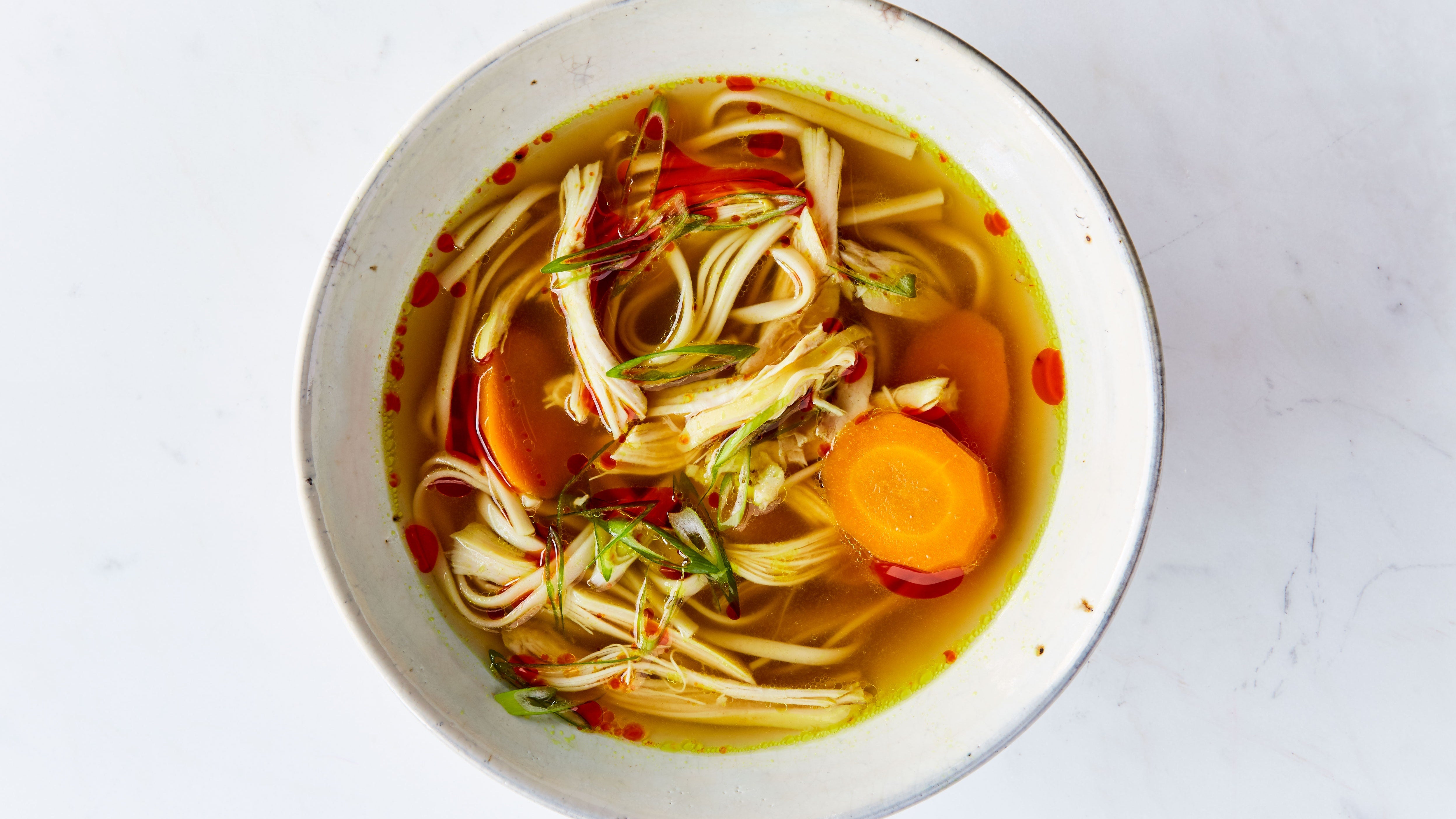 2 min read
TURMERIC-GINGER CHICKEN SOUP
Posted By
Emma Linnea
SERVES:4,    TIME: 60 min 
Chicken noodle soup never gets old, it's the perfect winter warmer. If you don't have udon for this recipe, use rice noodles or just spaghetti. A small knob of fresh turmeric can replace the dried type - use what you have on hand. 
Ingredients: 
1,5 kg - 2 kg free range chicken
2 medium onions, unpeeled, quartered
2 heads of garlic, halved crosswise
10cm piece of ginger, unpeeled, thinly sliced
3 dried bay leaves
1 tablespoon ground turmeric
2 teaspoons black peppercorns
2 teaspoons coriander seeds
pinch of salt
4 medium carrots, peeled, cut into 1cm thick circles on a diagonal
ca 250grams dried udon noodles
Scallions, very thinly sliced
Chili oil (for serving)
1. Place chicken, onions, garlic, ginger, bay leaves, turmeric, peppercorns, coriander seeds, and several pinches of salt in a large pot. Pour in cold water to cover and bring to a boil over medium heat. Reduce heat and gently simmer until an instant-read thermometer inserted into the thickest part of breast registers 155°, 30–35 minutes. Transfer chicken to a plate and let cool slightly; keep stock simmering. Remove skin from chicken; discard. Pull meat from bones and shred into bite-size pieces; set aside. Return bones and carcass to stock. Increase heat and bring stock to a boil; cook until reduced by about one-third, 15–20 minutes. Season with more salt if needed.
2. Strain stock into a large saucepan; discard solids. Add carrots, bring to a simmer, and cook until carrots are tender, about 5 minutes.
3. Meanwhile, cook noodles in a large pot of boiling salted water, stirring occasionally, until al dente; drain and rinse under cold water to stop cooking.
4. Divide noodles among bowls. Add shredded chicken meat to stock and cook just until heated through; season stock with more salt if needed. Ladle over noodles. Top soup with scallions and drizzle with chili oil.