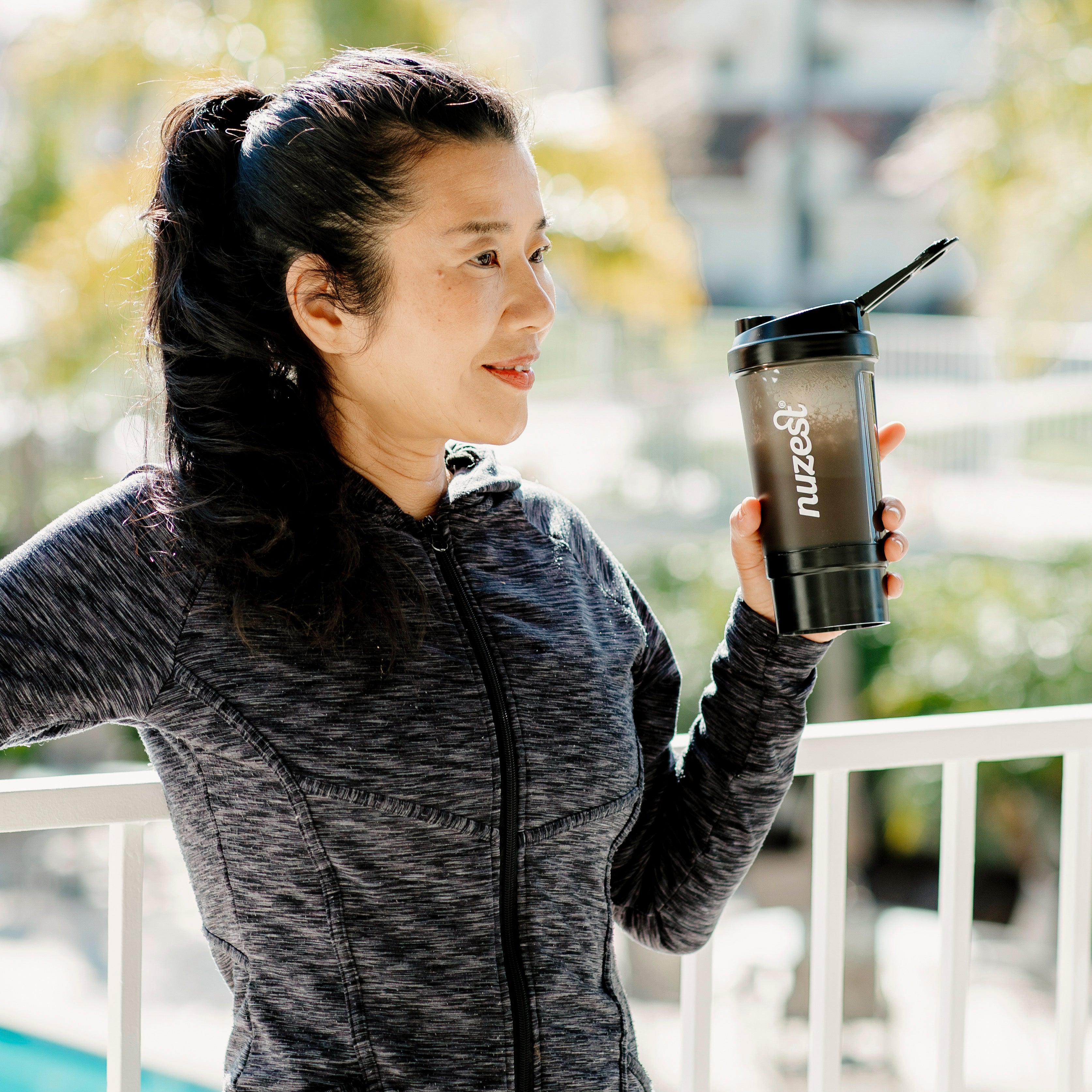 4 min read
Our Tips to Help Keep your Wellness in Top Form this Autumn
Posted By
Nuzest Life
Article by Olivia Ensor
Winter is almost here. Who can deny the temptation to curl up and stay inside this time of year? As tempting as it may be, it is important that your mental and physical wellbeing is not negatively affected by the colder, darker months. Tap into your autumn wellness using our tips to help you keep your health and wellbeing in check this season.
Lay the foundations 
As we head through Autumn and into winter, we become more susceptible to illness, and our attention turns towards how we can give our bodies the best possible chance to thrive and beat the winter flu. While we cannot completely avoid becoming ill, laying the foundations and offering your immune system a helping hand is a step in the right direction.
Nourish with Colour 
Nourish your body with seasonal foods. There is a reason they harvest during this time of year. Turn to root vegetables, leafy greens, dark berries and figs. The centrepiece of autumn, the pumpkin, is, in fact bursting with essential nutrients such as beta-carotene, a pigment that is converted to vitamin A in the body. Vitamin A is essential to vision, growth, cell division and immunity.

Embrace the spice cupboard this season, add them to your meals and drinks and reap the many benefits. Spices such as chai, cinnamon and turmeric are good sources of antioxidants and anti-inflammatories. 
Introduce a Multi-Nutrient Early on
Many of us begin to take extra vitamins and minerals when it is too late - when we are already ill, but our immune systems need continuous support. A multi-nutrient is a great way to account for any shortfalls in your diet. Fill the gaps in your nutrition with Good Green Vitality. Our nutritional super blend is the health investment you need to optimise your immune health this season (and all year round), with over 75 ingredients that work synergistically to build the foundations of a strong immune system.
Rethink your Exercise Regime
It goes without saying that physical exercise is good for our health and wellbeing. The dark mornings and evenings, coupled with the cold temperatures, can hamper our usual exercise regimes. Inactivity over autumn and winter can be challenging for our metabolism, immune system, and brain function. You can take your exercise indoors, check out your local gym classes or try working out at home. Better yet, take advantage of the great outdoors, wrap up warm and go exploring, this time of year the scenery is too good to miss. Spending time in nature has been shown to positively impact our mental health, reducing stress levels and the likelihood of developing depression.
Listen to your Body
Shorter days and earlier sunsets can throw off our circadian rhythms (our internal body clock). We tend to go to sleep earlier and want to stay in bed longer. Welcome this change, it is good to listen to your body and allow yourself to slow down. Although, if you are finding yourself more fatigued throughout the day despite an abundance of sleep, try and expose yourself to light as soon as you rise, go for a morning walk and avoid overheating your home; as toasty as this may be, it encourages drowsiness.